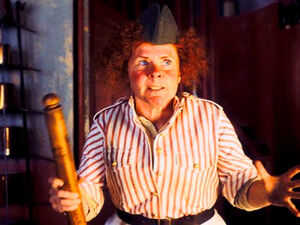 Mrs. Blatherwick
is the cook of the Brown family. Her catchphrase is "Snow in August"; this actually comes true when Nanny McPhee uses her magic to create the perfect wedding environment. In the film, she chases a toy mouse used by the children and is tied up.
She used to be a cook for the armed forces and she uses her cooking skills to make soup for the ill children.
a she like s to take care of them and telling her that children are sic she haelp her get a basket when she set down check are they have a favier
Ad blocker interference detected!
Wikia is a free-to-use site that makes money from advertising. We have a modified experience for viewers using ad blockers

Wikia is not accessible if you've made further modifications. Remove the custom ad blocker rule(s) and the page will load as expected.