Vincent is about four or five and he shows a love for candy.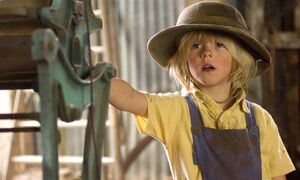 Vincent Oscar Green is the youngest child of Rory and Isabel Green.The sibling of Megsie and Norman
When cousins Cyril and Celia first arrive at the farm, they start fighting with Norman and Megsie whilst Vincent simply attacks the sofa with a cricket bat until Nanny McPhee brings them under control.
When Nanny McPhee leaves at the end of the film, she gives Isabel and each of the children one of her medals with Vincent receiving the medal for Enthusiasm. Seeing Nanny McPhee leave, they all take off after her, only to be greeted by a returning Rory.
Ad blocker interference detected!
Wikia is a free-to-use site that makes money from advertising. We have a modified experience for viewers using ad blockers

Wikia is not accessible if you've made further modifications. Remove the custom ad blocker rule(s) and the page will load as expected.